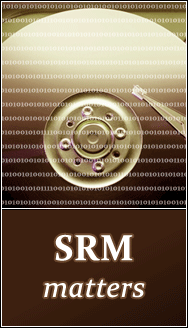 If you produce data, you need to store it somewhere and if you produce lots of it, the storage resources management issues becomes pivotal to your IT success, in this area.
Companies of all sizes seek to make the most of their IT investments, including storage, while keeping new spending in check. Depending on which company you ask, between 33 and 70 cents of every dollar spent on hardware goes to storage so working on allocation efficiency towards optimum distributed storage system use is just good business sense.
Also, storage is rapidly outpacing servers as the biggest user of power in the data centers so that could eventually impact negatively on the carbon footprint and infrastructure utility costs.
Could something as straightforward as storage resource management (SRM) be the answer to the storage woes IT has to contend with on an ongoing basis? Since lots of companies have urgent needs when it comes to storage, let's hope the following mini-guide will come in handy.
Here's how to get your storage sprawl under control by doing your homework pertaining to the following four strategic areas:
Policy management
Make sure to map business rules pertaining to data storage;
Report on and forecast infrastructure trends;
Impose process conformance within your network as changes occur.
Data management
Manage data provisioning and protection services based on business criteria such as hosting costs, protection, preservation and retention;
Apply mechanisms for intelligent data movement over time to achieve utilization efficiency.
Capacity management
Manage existing capacity to achieve allocation efficiency before buying more;
Monitor data growth trends;
Impose simple hierarchical storage management capabilities and data protection process monitoring.
Configuration management
Emphasise hardware asset discovery and configuration;
Interconnect (server / storage) mapping and optimization;
Set up status monitoring, maintenance and trouble shooting facilities.
In theory, SRM is supposed to give us clarity and visibility into what we currently have at our disposal, storagewise, so we can manage it more efficiently. The real progress is made, however, when combining SRM with data management (enforced by comprehensive company policies) that leads to more effective storage management.
In other words, like many other things in a company, it's about teamwork and communications between the team members because otherwise, the data growth issue may quickly get out of hand… and way over-budget.
Saving money over storage hardware purchases will make any IT decision maker a darling with CFOs but let's not forget there's a lot of work to be done before getting there. Provisioning, deduplication and virtualization must all be explored, understood and properly implemented to optimize a company's storage resource management.
Remember that you can't manage what you can't see — that's especially true when it comes to storage so start digging and you'll eventually become an "SRM hero".
Tags: srm, storage resource management, storage, storage policies, data management, data centers, capacity management, servers, hosting costs, data growth, infrastructure trends, status monitoring, maintenance